Google My Business (GMB) is an important part of local business and local SEO. As we all know, without any digital marketing online marketing of any business in the present day it is almost impossible. The Google My Business Page or this GMB occupies the majority of a business's digital presence or functions for digital marketing. This is a very important service, to present the business to the customers. Works as one of the biggest directors for local SEO or any type of business branding and marketing.
Google My Business is a tool or service that creates an online presence for your business or organization through Google. As a result, any business can be easily found on GOOGLE search result pages and GOOGLE maps. When you search on Google by typing the name of a business, you can see the business location, photo, address and various information in a box on the right side of the PC and on the top of the mobile. If you search by entering a service or business category, the search result shows three business names and some information along with the map. Creating and updating Google My Business pages displays this information. And it's called Onebox or Knowledge Graph in Google language.
Add Your Heading What information does one show in Onebox or Knowledge Panel?
When searching by typing a business name, a box on the right side of the computer and on the mobile side shows some information about that business separately (as pictured above), called Knowledge Graph or One Box Result. Information about business category changes. Usually the following information is always seen in this section-
The name of the business
Business category
Map – Business Location
Business address
Business hours
Phone number
Website
Call options – for mobile
Menu link, order link, reservation link (in case of restaurant or hotel business)
Different attributes including payment system, wifi service (business category differs)
Photos – Logos, working photos, team, any business photos
Video – Business Related
Q&A sessions
Business Review – Google, Facebook, Yelp etc.
Ratings
Special offer or post
In addition, when searching on Google by typing in a local keyword, you will see a section called the Google 3 Pack or Local Pack.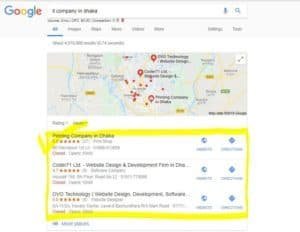 5% of people search Google for local business information.
3-5% of people who search the business visit the location.
Most people who search for local businesses purchase products or services.
GOOGLE is the easiest way to express your web identity, and GMB is one of the biggest tools.
Google My Business এর কিছু ফিচার সমূহ
Info: GMB displays important business information on Google.
Post: This post can be directly shared through various posts or offers. This post can be added by button, book button or website link button.
Website: Create free web sites from Google My Business.
Google AdWords: Google AdWords can be directly managed and linked to the business. The hoof is easily displayed in a specific area of ​​the business location or in your preferred city.
Insight: How many businesses searched, how many calls or how many websites were visited, etc. Reports are available.
How does Google My Business promote a business?
Branding – By searching Google with your brand name, you first show your brand profile and then display organic results, which will strengthen your brand.
Reviews – Users can post reviews on your GMB profile. This review helps other customers decide whether or not to purchase a product or service from you. You can increase customer satisfaction by responding to reviews.
Local SEO – If you have a GMB profile, Google's local search will show your business well and enrich your business' local search results. More reviews take your business to the top of local search. Gains your business reviews on GMB, Facebook, Yelp and other high authority websites.
How to create a GOOGLE MY BUSINESS account?
To create a GMB account, you first need a Google Account or Gmail.
To create a GOOGLE MY BUSINESS account go to google.com/business at this address.
Then sign in with Gmail by clicking on the SIGN IN button. If there is no Gmail then More Options then Create Account will have to open a new account.
Then enter the business name and click on the NEXT button.
Country, street address, city and postal code.
If you have a business delivery service, check the box for "I deliver goods and services to my customers". Then click on the NEXT button.
If the delivery service is checked, you have to select the delivery system or area. Then click on the NEXT button. This option will not be available if the delivery service is not checked.
Your Google Map will come directly. Drag the red marker and place it in the correct position. Then click on the NEXT button.
Enter the business category. Give the correct category. Then click on the NEXT button.
Click the NEXT button with the phone number and website.
Click on the CONTINUE button. Done!
Note that the business name, category, address, phone number, website type, the way you write the format, the information will be saved exactly. Changing the format or text will cause problems with SEO business practices for your business in the future.
Verification is basically four ways. Call, Text, Mail, Email
These options are common in the mail and often in the process.
You cannot select these options as you like.
The options that Google will give you have to be verified. If there is a call option then a call will be placed on the mobile and it will say a zip code. A text code will be sent to the message zip If email, a zip code will appear in your email. If the mail arrives through the post office, there will be a zip code. Even if Google tells you to reach the letter within 5 days, it usually takes 20-20 days in Bangladesh. Verification request is on for 7 days. If you can not confirm, then you have to request a new one.